CARTOONS SHARP & TO THE POINT
Make your great articles better … the same way icing improves a cake … 😀
Chris' cartoons have appeared in the Washington Post, the Australian, the Daily Telegraph, the Herald Sun, the Bulletin, Crikey, the Northern Territory News and the Tasmanian Mercury.
1   Long Live the Messy Desk
"If a cluttered desk is a sign of a cluttered mind, of what, then, is an empty desk a sign?" Albert Einstein, Theoretical physicist, exponent of messy desks.
Tap here for Cartoon plus ANZ article

2   Pilot Fatigue
The significant danger of long flying hours for pilots and passengers

3   Aircraft Safety
Current airport safety procedures are inadequate for newer, larger aircraft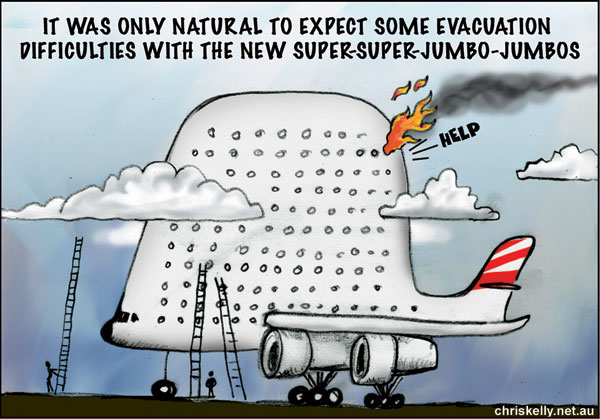 4  Dressing Up on Dress Down Fridays
"Gentlemen you look neither cool nor hot in your suit without a tie. George Clooney does. You look half-dressed." Leo D'Angelo Fisher, Freelance journalist and management authority
Tap here for Cartoon plus ANZ article

5   Death by PowerPoint
" A presentation needs to be an Indiana Jones movie, not the PowerPoint equivalent of Andy Warhol's eight-hour epic Empire." Paul Edwards, Manager, operations strategy at ANZ
Tap here for Cartoon plus ANZ article

6   Passive-AggressiveWorkplace Sexism
" Just joking" can mask a form of covert sexism that erodes women's confidence and has an impact beyond the woman who is targeted to those who hear or observe the behaviour."Catherine Fox, Journalist and author
Tap here for Cartoon plus ANZ article

7   Best Practice Industrial Maintenance
#6 of 12 company posters & calendar on best-practice maintenance
8   Corona Virus Mask-Wearing Etiquette 
So many new things to learn.
9   Even the Animals have to Wear Masks
Maybe …