FUN, FAST LIVE CARICATURES TO MAKE YOUR PARTY & CORPORATE GIGS FLY
I have been drawing live caricatures for over 35 years in over 80 countries as I travelled the globe.  Trust me, it's a GREAT icebreaker!
ONE OF AUSTRALIA'S FINEST LIVE CARICATURISTS.
Melbourne based ~ Australia wide.
FAST ~ 35 years experience.
Parties, Corporate Gigs, Weddings, Anything!
Rick Crichton: Marketing Coordinator, GM Holden Ltd
"Chris' work at the Deni Ute Muster was a superb addition to our annual event. He has an ability to make people of all ages laugh with his humour and fantastic live caricatures.  I can highly recommend Chris to anyone looking to do something more creative at their events."
1/12   Wedding
Very pleased with her colourful caricature
2/12   Corporate Xmas Party
Stylish guest with her stylish caricature

3/12   Private Party
Relaxing between drinks with a caricature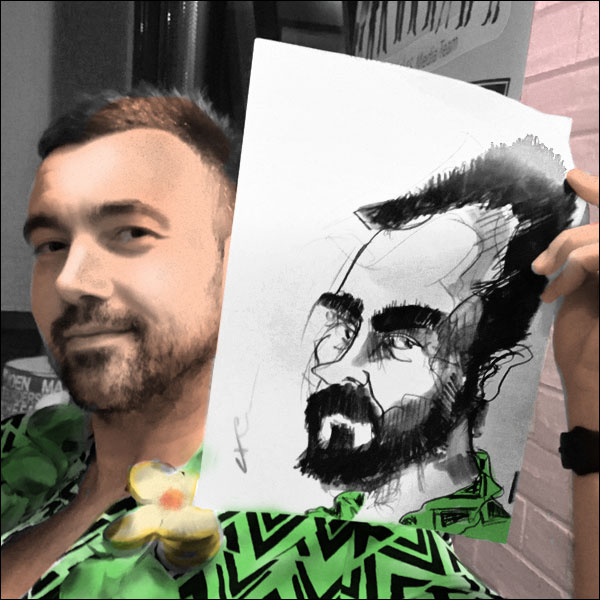 4/12   Corporate Gig
This elegant one to be framed for the office!

5/12   Fundraiser
Delighted with her hat caricature!

6/12   Private Party
Happy not to have an over-exaggerated nose

7/12   Private Party
Great beer-can hairdo to caricature!

8/12   Wedding Proposal (Successful!)
She was surprised, then delighted, when asked to finish the drawing

9/12   Corporate Christmas Party
Xmas party? Hat's a dead giveaway, innit?

10/12   Children's Party
Wonderful lass absolutely adored her sketch

11/12   Vibrant Wedding Caricature #1
She's quite correct of course

12/12   Vibrant Wedding Caricature #2
It's great drawing people having so much fun